The transmission is one of the "hottest" areas of your vehicle's drivetrain.
Over the course of time, this heat deteriorates the transmission fluid. The result? The deteriorated fluid can lead to varnish and sludge build-up in the transmission. Eventually, this build-up can cause damage to certain transmission components leading to poor performance or complete failure.
Transmission failures are usually caused by overheating and contaminated transmission fluid. The good news is this is easily prevented.
Paragon Motors uses TerraClean products when they perform an automatic transmission service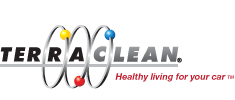 When we perform an automatic transmission service on your vehicle, we use TerraClean products. TerraClean will remove sludge & varnish build-up in your vehicle's transmission. This build-up could block passageways and valves in your transmission system, causing significant damage or failure, leaving you stranded on the road.
You can read more about TerraClean and their products by clicking here.
When you use Paragon Motors to service your transmission, you can rest assured it's being serviced right! Your vehicle is also entered into their family fleet system, so you no longer need to worry about when it's time to service your vehicle. Using the Service Intelligence system, Paragon Motors tracks your vehicle use and alerts you when it is time to service your vehicle.