At Paragon Motors, we are great listeners, and proud of it. It's a big reason we are your best bet when looking for a superb auto repair and service facility. 
---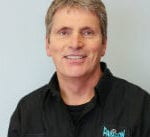 Rick Patterson
Journeyman Technician/ Co-owner
Rick is our CAR and AUTO MECHANIC specialist! Kelowna born and raised, he ventured to Vancouver for a few years, but soon returned to raise his family near his roots. He excels with challenges & puzzles, making sense of electronics, wiring, and diagnostics, and has a strong background in computers. He brings with him an incredibly vast amount of knowledge. Rick earned the highest marks of the class in his auto formative Professional Training. He then moved on to IBM as a respected technician.
Now, after thirty years specializing in car diagnostics, his constantly inquisitive mind never rests. He follows his great grandfather, grandfather and father in the automotive industry as an auto mechanic. Their family car repair business originated in Estevan, Saskatchewan in the late 1920's.
Now in the Okanagan since 1945, Rick is continuing on with the automotive repair legacy. He brings strong leadership for the Paragon Motors crew, encouraging them to grow their skills, thus providing a sense of belonging for them. Paragon Motors is still a 'Family Business', now shown by the dedication of the entire team, with the goal being to "cure customer frustration".
---
Drew Henderson
Service Advisor – Co-owner
Drew has been working in customer service for most of his life, whether it was in car sales or in customer retention and follow-up. His experience has grown in him the unique ability to become an important bridge between the Automotive technicians and the Customer.  Drew spends his time off with his family and friends. On those great sunny Okanagan days, you will likely find him out on his motorbike.
---
At Paragon Motors we are noted for our up-to-date diagnostic equipment, and efficiently trained auto repair staff. We also boast an excellent reputation with our fleet truck customers. Paragon Motors has proudly been offering Kelowna and the Okanagan Valley reliable, high-quality repairs and service since 1981.
Great Customer Service!I have repaired my car from Paragon Motors. The last time I went there to check the price and I've figured out their price is competitive also they offer me instant repair service without an appointment. They are honest and reliableMy trusted vehicle service partner.
Exceedingly happy with my experience at Paragon Motors!I am new to Kelowna and found them through excellent reviews online, and I was not disappointed. They were able to get my car in quickly and then provide a detailed description of everything that needed to be done vs everything that could be done, I felt no pressure and was able to choose what was right for me.I will definitely be returning to Paragon for all my car repair needs not only for their quality service but for the genuine and courteous employees.Thank you Paragon Motors!