Engine Belt and Hose Service
When everything is running properly, you never give your vehicle's belts and hoses a second thought. When they break though, it becomes a big problem very quickly.
Engine hoses are designed to carry liquids. If a radiator hose develops a crack or hole, the coolant may leak, and the engine temperature could climb quickly. An overheated engine may leave you unable to continue driving. A quick visual inspection can determine if your vehicle's hoses need to be replaced before they fail, possibly leaving you stranded.
Your vehicle's engine belts are critical to the cooling, air conditioning, and charging systems of the engine. If you look under your hood, you'll find either Serpentine belts or belts that form a V.  The belts are used to turn the water pump, power steering, alternator, and air-conditioning compressor. These belts are made of a specific blend of rubber that is designed to operate in the extremely hot engine compartment. While they are designed for long life, they do wear out or crack eventually. If the belt breaks, your vehicle could be left inoperable on the side of the road.
Your timing belt plays a vital role in your engine's performance and operation. As its name implies, the timing belt is responsible for the timing of the engine. If it's damaged or stretched, your engine may not run properly. Many manufacturers recommend replacing the timing belt every 100,000 kms. It is a good idea to inspect your timing belt every 15,000 kms. What will your Paragon Motors technician look for while inspecting your timing belt?
Timing belts will wear down from normal everyday usage, and more rapidly if the engine is put under extra strain such as pulling a trailer or operating in wet weather.
Worn edges with the filaments visible.
Cracking anywhere along the length of the belt. Your technician will inspect both sides.
Glazing or shiny surface on the timing belt. This is a warning sign that your belt has lost some of its flexibility and may be more prone to breakage.
Material collecting on parts. As the timing belt wears away debris builds up in the rib cross-sections. This can cause belt noise and unwanted vibration.
Elongation or stretching. This reduces the tension on the belt and reduces the required power to the accessories.
Misalignment wear resulting from the tensioner's internal components malfunctioning. This will likely lead to excessive vibration, noise and potential overheating.
It's like they say, "timing is everything", and that goes double for your vehicle's performance. Make sure your timing belt is inspected by Paragon Motors on a regular basis.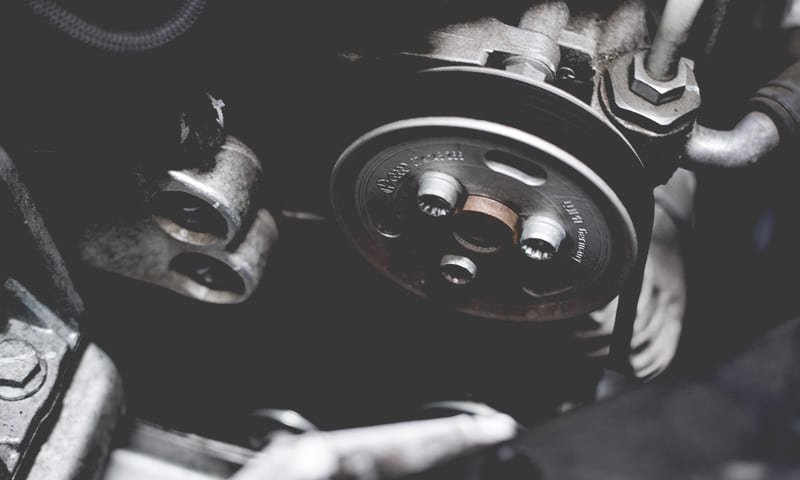 My Father trusts Paragon to maintain his vehicles and they have always taken great care of him. When I came to Paragon Drew was very accommodating to all my needs. I had a clutch slave cylinder go out on my car and was trying to limp the car to Paragon. He offered a tow truck and I did end up needing it to get halfway there. As promised the truck showed up in just 15 mins and the tow truck driver was also very courteous. When I got the car there they diagnosed the problem and emailed me the invoice to approve the work before they did anything. The diagnose time was very quick and they performed all the work for me in under 3 hours including the time to get the part from Lordco. Absolutely awesome job. Thank you very much to everyone at Paragon.
Drew and his team helped me out tremendously!! I am a student from out of province and was unsure what company would inspect my car and would be helpful and honest (as some auto repair shops can rip you off). However!! Paragon Motors was extremely helpful, kind, professional, & broke down exactly what steps I needed to take, and fixed exactly what I needed done. Best auto repair in Kelowna, BC. They did a wonderful job and I am very happy with their services. Highly recommend, and I will be returning for sure!