Is it time to change my Spark Plug Wires?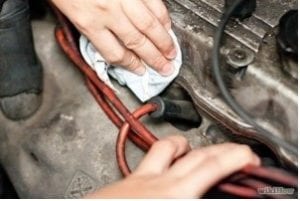 Most people will make the decision to change their spark plug wires for two reasons. The first is when their owner's manual recommends it, the other is when the engine begins to misfire.
Why do spark plug wires fail, and why do they need to be replaced?
Your spark plug wires are exposed to high underhood temperatures that can really take its toll on the spark plug wire's insulation. When you combine this with newer vehicles having high-output ignitions, it's easy to see why the wires could be overstressed. Other factors that can weaken the insulation on the wires are water, oil, and gasoline vapors.
When your spark plug wires are damaged, this can cause increased resistance resulting in a weak spark. What you notice then is your engine misfiring or sputtering. While this can be embarrassing and annoying, it can also be quite dangerous.
Imagine if you were trying to merge with traffic and your engine sputtered and didn't allow you to pick up enough speed. No one wants that experience.
Another reason to change your spark plug wires is that it can dramatically improve your engine's operation. Performance is always better when your spark plugs are getting the power they need.
Usually I get my winter tires and wheel alignment done at Canadian Tire but found a deal with these guys and they did an awesome job. They were professional, on time and worked around my schedule to get the work completed. I would recommend them to any one looking for quality car service. This was my first time using them but plan to use them again in the future when my next car issue arises.
I first took my car here a few years ago after a bad run in with a different shop and I have never taken it to another business since. Everyone at Paragon is so knowledgeable, trustworthy, and all around professional, I can't possibly say enough good things about the service I've received there. Highly recommend them!