Is it time to change my Spark Plug Wires?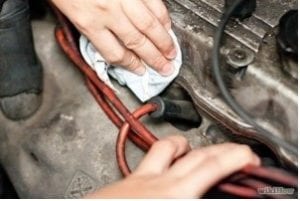 Most people will make the decision to change their spark plug wires for two reasons. The first is when their owner's manual recommends it, the other is when the engine begins to misfire.
Why do spark plug wires fail, and why do they need to be replaced?
Your spark plug wires are exposed to high underhood temperatures that can really take its toll on the spark plug wire's insulation. When you combine this with newer vehicles having high-output ignitions, it's easy to see why the wires could be overstressed. Other factors that can weaken the insulation on the wires are water, oil, and gasoline vapors.
When your spark plug wires are damaged, this can cause increased resistance resulting in a weak spark. What you notice then is your engine misfiring or sputtering. While this can be embarrassing and annoying, it can also be quite dangerous.
Imagine if you were trying to merge with traffic and your engine sputtered and didn't allow you to pick up enough speed. No one wants that experience.
Another reason to change your spark plug wires is that it can dramatically improve your engine's operation. Performance is always better when your spark plugs are getting the power they need.