Engine oil is the lifeblood of your vehicle.
Why is an Engine Oil Flush so important?
Imagine you are at a water park and going down the slides. You slide easily down the chutes because it is lubricated with water. Now imagine the water is becoming contaminated with dirt and sand. The ride is no longer as smooth or as quick. The more contaminated it gets, the parts involved (your body and the chute) increase in friction and heat. Obviously, you'd stop using the slide while in this condition to avoid discomfort or injury. Unfortunately when it comes to your engine oil, out of sight is out of mind.
What does Engine oil do?
It lubricates components throughout the engine including the pistons and camshafts. It also operates as a coolant, removing heat to protect components. Over the course of time, additives in the oil break down and are used up. The oil becomes contaminated with dirt and sludge. Some of these contaminants are removed when the oil filter is replaced as part of an oil change. Yet much of it remains in the engine, which will contaminate the new oil. When oil becomes very dirty, it acts like an abrasive. This can lead to lower engine compression, reduced power, and over the long run may affect the life of your engine.
Your engine has numerous oil galleries designed to deliver the oil to all critical components of your engine. They can become restricted or plugged, starving various components of proper lubrication and shortening the life of your engine.
Routine cleaning of these passages is essential.
Preventive Maintenance
An Engine Oil Flush Service removes old oil and deposits that a conventional gravity oil change leaves behind. Imagine if every time you took a bath and all you did was drain the tub of old water and never cleaned it. How clean would the new water be before long? With a conventional gravity oil change, your new oil is already contaminated before you are out of the parking lot.
When Paragon Motors provides an engine oil flush using TerraClean Engine Oil Cleaner, it infuses the engine oil with a detergent that cleans the entire oil system without damaging it.
This cleaner circulates throughout the system by running the engine for 10 minutes. The cleaner removes and holds these contaminants in suspension and when the oil is changed,  all the dirt, sludge, and combustion by-products safely flow out with the old oil and cleaner.
Benefits of an Engine Oil Flush Service
Your engine's oil system will be cleaned of sludge and other contaminants that can decrease the life span and performance of your engine.
As new oil is added to your engine, it will stay cleaner longer as more old oil is removed preventing the new oil from contamination.
Did you know?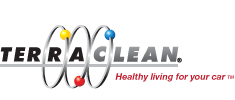 Changing your oil on a regular basis is one of the simplest, most inexpensive ways of maintaining your vehicle. A maintained vehicle holds its value longer and is easier to sell in the future. Please ask your service adviser for details.
 Paragon Motors uses TerraClean products when they perform an engine oil cleaning service