Spark plugs produce an electrical spark that ignites the mixture of fuel and air in your engine's combustion chambers, creating an "explosion",  forcing the pistons to move up and down. This "explosion" creates the turning force needed to propel the vehicle forward through the drivetrain.
How do spark plugs wear out?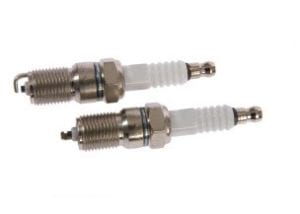 The first thing to keep in mind is that spark plugs are a critical component of an internal combustion engine.
To put it into perspective, if your engine is idling at 1,000 rpm (revolution per minute) each of your spark plugs will spark and ignite the fuel mixture 500 times.
As the rpm goes up, so does the number of times your spark plugs will be required to spark and ignite. Every time a spark plug fires, the spark removes some of the material on the plugs, increasing the amount of voltage necessary to fire the next time. They are also subjected to extreme heat, gasoline, and oil that can reduce their effectiveness.
For all of these reasons, it's important to replace your spark plugs on a regular schedule.
How often should you change your spark plugs?
Standard copper plugs can last 16,000 to 35,000 kilometers
Platinum plugs can last approximately 100,000 kilometers
Iridium plugs can last more than 200,000 kilometers
Keep in mind that these are just estimates and depending on how the vehicle is driven they can last longer or shorter. If you don't know what kind of spark plugs you have, don't worry because few vehicle owners do. Simply ask your Paragon Motors mechanic.
The indication you may need to change your spark plugs
The engine has trouble starting
Engine idles rough
You have reduced fuel economy or performance
Most vehicle owners will see a dramatic improvement in these areas when old spark plugs are replaced.